Times are changing! Southeastern announces new May 2018 timetable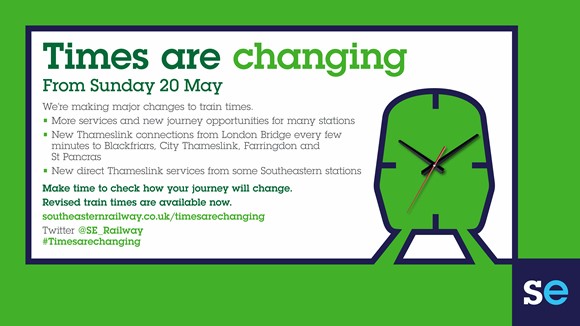 We're making major changes to our train timetable from Sunday 20th May.
We're making these changes to allow the integration of new Thameslink services across the network and on new routes into Kent. These services will replace some routes currently operated by Southeastern, and we'll be replacing Thameslink services on others.
There'll be more services and new journey opportunities from many stations, and new Thameslink connections at London Bridge every few minutes to Blackfriars, City Thameslink, Farringdon and St Pancras International.
We've also been able to boost capacity on some high speed services in the morning peak, extend some routes to serve more stations, provide earlier trains on others and reduce some journey times too.
We know that these changes will mean that passengers may have to adjust their travel plans, and we're encouraging them to check how their journey will change at southeasternrailway.co.uk/timesarechanging.
Here you can find the full detail of our new timetable, and a station-by-station summary of the changes on those routes most affected.